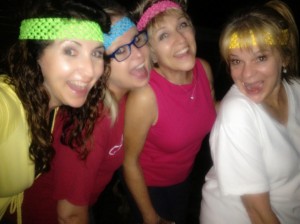 You gals ROCK...with ATTITUDE!
Minnie Pause and the Hot Flashes has uniquely customized "classic songs" and laugh-out-loud humor into our one hour musical!
Our theme is perfect for women of all ages (and men!) – that there is JOY for Life's Journey no matter what the circumstances!
Everyone likes to laugh!  Sometimes we really need it, too.  We believe what scripture says, "a joyful heart does good like medicine."  Minnie Pause & the Hot Flashes is the perfect idea for ladies' outreach events, retreat entertainment, celebrations, mother/daughter functions, and even couples' gatherings! Whatever social function you choose, you will be sure to come away refreshed and smiling!
Minnie Pause and the Hot Flashes – Promo from 3 Streaks Creative on Vimeo.
Two shows are offered:
Joy Unplugged is performed January through October.
Oh, What A Night! is performed November and December.
Check out our calendar for availability, and contact us now at 713-478-4251.