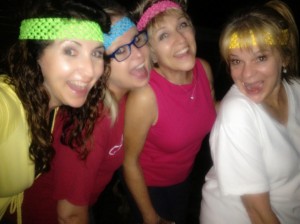 You gals ROCK...with ATTITUDE!
JOY for Life's Journey!
It has been the heart-cry of Minnie Pause & the Hot Flashes since 2007, and oh what a joyful journey it has been. Throughout these eight years, we have laughed, cried, and prayed with audiences all over Texas and even some in Louisiana. And, in the midst of it all we even bid farewell to one of our own.
We have never doubted that this unique ministry was God's funny brainchild, because none of us could have ever dreamed up such an outrageous concept. And, likewise, none of us could begin to imagine the blessed JOY it would bring: not only to our audiences but also to each member of this ministry: cast, crew (hubbies), support staff, and Board members.
We are about to perform our last show as Minnie Pause & the Hot Flashes, and although it is always sad when a happy era comes to an end, we are so excited about the JOY that lies ahead, as we know God has more surprises in store for all of us.
We extend a special thanks to all of our friends (groupies) who have prayed for hearts to be healed, saved, touched, and tickled through the ministry of Minnie Pause & the Hot Flashes. Your prayers were answered over and over. Please pray that same prayer for our last show. We are so excited about it and look forward to hugging many of you and getting one last photo op in our beehives. We pray that you will keep laughing, and more than anything, we pray that you will experience eternal JOY FOR LIFE'S JOURNEY!
Minnie Pause and the Hot Flashes – Promo from 3 Streaks Creative on Vimeo.
Two shows are offered:
Joy Unplugged is performed January through October.
Oh, What A Night! is performed November and December.
Check out our calendar for availability, and contact us now at 713-478-4251.